Antique Oriental Rugs – A Guide About Antique Oriental Rugs
Beautiful Rugs offers a wide selection of antique oriental rugs, a term that generally refers to rugs that are older than one hundred years. Dating of rugs can be determined by several means, including fading, or a loss of the yarn's dye color, a high density of the rug weave, signs of wear and tear over time, and ownership records, if available. In this blog entry, we will provide a brief description of several antique rugs available in the inventory of Beautiful Rugs, which can be viewed online, and ideally, if possible and highly recommended, in person at our store.
An oversize, antique Kashan handmade rug made with high quality kurk wool (catalog number 570) with a stunning deep red field features a central diamond-shaped medallion with pendants that has intricately woven stylized florets and lotus flowers on a deep navy-blue field. The central and innermost floret in the central medallion stands out with its lighter red florets that are set among other florets in a small ivory hexagonal star field. The medallion's inner hexagon is enclosed with another diamond-form with a deep navy-blue field composed of arabesque circles of florets. Around the innermost medallion, there are two alternating floral motifs: crab design lotus palmettes with a shield shape and shah Abbasi lotus palmettes with outspread leaves. A dense profusion of stylized florets, palmettes and serrated sickle leaves fill up the rug's red field, and the deep navy-blue spandrels (or corners) and border of the rug provide a striking contrast to rug's central red field. This intricately detailed floral rug is a stunning addition to any larger room that measures about eleven and a half feet by eighteen feet.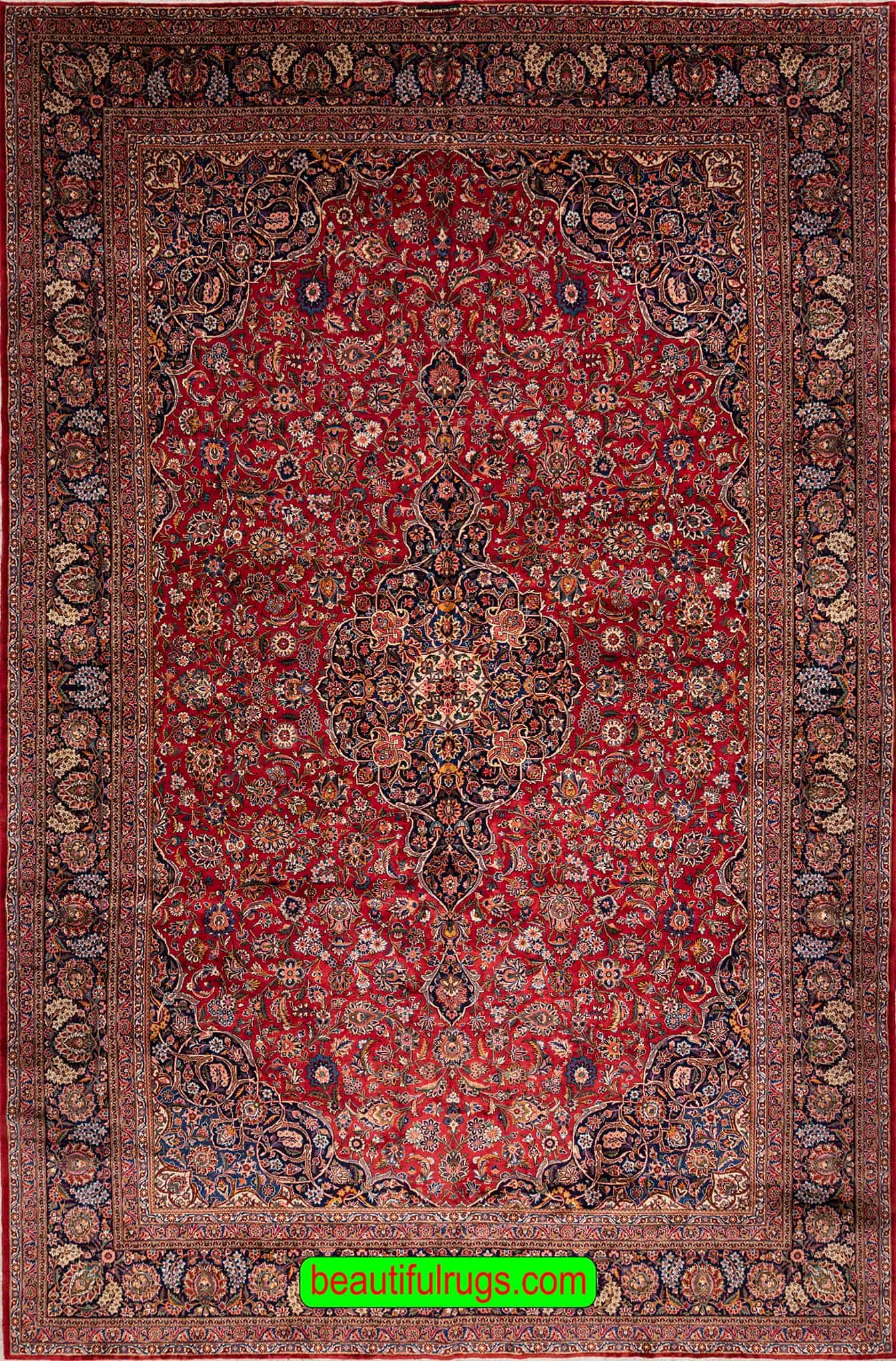 An antique Isfahan rug with an allover diamond lattice design (catalog number 423) in stock at Beautiful Rugs is completely woven of very fine kurk wool with a vegetable dye on a cotton foundation. It is in excellent condition, despite its age. The field on this rug is a soft pastel yellow that features three large palmettes, stylized lotus flowers, with outspread leaves enclosed by a diamond made up of stylized serrated leaves and a pair of botehs or paisley designs with florets at their base. The darker border is also made up of palmettes in a dark blue navy field.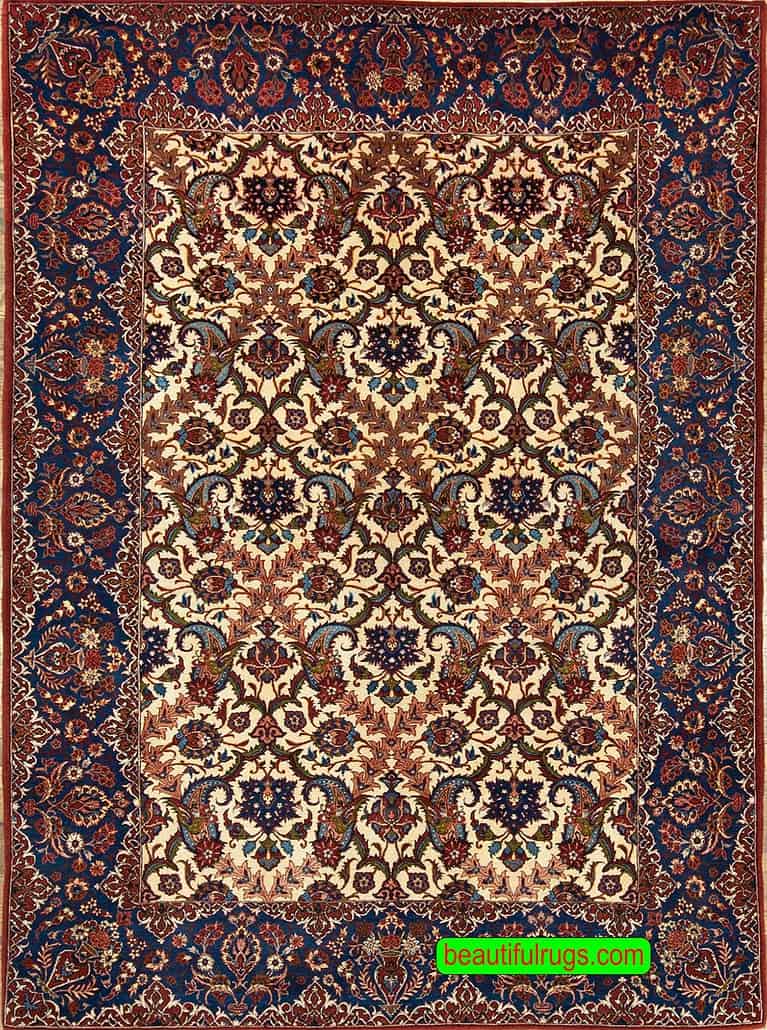 This antique rug is an impressive example that relies on the Shah Abbas motif that appears often in Persian rugs. It can be noted that this style is named after Shah Abbas (1587–1629), the greatest ruler of the Safavid dynasty under whom Persia flourished. It is Shah Abbas who modernized and directed his government to create and fund rug making workshops and schools, which advanced Persian rug design to a such heights of artistic complexity that they became world famous.
Another antique oriental rug from Isfahan (catalog number 544) is woven with fine kurk wool; this handmade rug in perfect condition features a deep red and blue central medallion with a floral pattern on a bright beige field. This field has arabesque, interconnected florets, lotuses and serrated leaves that are enclosed in a navy blue border area in the spandrels (or corners) of the central field. Some of the stylized lotus blossoms with buds are done in a hatayi (or khatyi) style; this is a Turkish term for Cathay or China, and the leaves surrounding the buds are feathery. This rug's wide border features deep and dark red arabesque floral patterns that provide a striking contrast to the lighter inner field.
It can be noted that Isfahan, the region where this rug was woven is in central Iran, and city Isfahan during the Safavid dynasty in the sixteenth and seventeenth centuries became the capital of Persia, and its handmade rugs are among the outstanding works of art in part because they rely on high quality wool (kurk) yarn that permits the rug weavers to create very intricate curvilinear designs, which make these rugs among the highest quality rugs that you can find of Iran.
An antique wool pile rug from the city of Veramin (catalog number 780) is unusually long and large. This handmade Persian rug on cotton foundation can serve as a large rea rug or as a runner in a wide corridor; it is over fifteen feet in length and seven feet wide. It features a mina khani style overall lattice pattern with rows of repeating highly stylized florets, alternating between bright and dark red on a deep navy blue field. In each of its interconnected diamonds with a central floret, there are small ivory florets arranged at the corners. The main border on this rug features a stylized geometrical repeated pattern on an ivory field. It can be noted that Veramin is a city in north central Iran that is south of Tehran, and in this area has had a long history of rug manufacturing. The bold and striking on this antique Veramin rug can enhance any room or space.
A pictorial and floral antique rug from Tabriz (catalog number 482) features a central medallion an image of Mariam in the countryside with cypress and poplar trees on the horizon who is tending to a goat. (Mariam or Maryam is the Aramaic form of the Miriam, a sister of Moses and prophetess.) Intricate yellow, beige and blue arabesque florets and lotuses are arranged around this medallion in a deep red field. The wide border with a navy blue field features alternating vases and a small panel of a horse depicted in profile in a field. This is a very fine quality wool pile rug on a cotton foundation with vegetable dyes. Though the pictorial form of Mariam is rendered in a simple style, it adds an engaging naïve style and human element to this rug.
It is significant to note that Tabriz, the capital of East Azerbaijan province located in the northwest part of Iran, was named the world carpet weaving city and designated a World Heritage Site. Handmade rugs have been woven there since the fifteenth century, and the city became an important Persian export center in the mid-nineteenth century.
An antique handmade Persian rug from Kashan (catalog number 438) features a distinctive design arch design or a mihrab, which refers to a prayer niche in a mosque wall that indicates the direction of Mecca, so this is also a prayer rug. At the rug's base from a vase, a large symmetrical pattern of yellow and red stylized florets and lotuses spread bilaterally throughout the rug's navy-blue field. On the upper portion of the rug, there is a façade of a building, perhaps the distinctive and famous Agha Bozorg mosque in Kashan, within a small panel and with stylized pink roses on its left and right. These roses may allude to the fact that Kashan is renowned for its roses, and its annual rose water festival from May through June. Along the wide border of the rug, pictorial elements are continued with several different scenes: the façade of a mosque, a natural landscape, and a pair of stylized birds appearing in small panels. These panels and stylized florets and birds appear on a dark red field. This antique rug is in excellent condition, and it is made of 100% wool pile on a cotton foundation. It can be noted that Kashan belongs to Isfahan Province located in central Iran and south of the city of Qum. It has become world famous for its beautiful ancient monuments and rugs.
A handmade antique rug from Bakhtiari (catalog 583) has an especially fine and dense weave, which is called Bibi baft (or Bibi Baff, which in Persian means a grandmother's weave). Its large central medallion has two distinctive parts: a central floret with stylized roses in a black field, and a surrounding white field with more roses and lotus flowers at its pendants. The remaining field of the rug features florets, botehs (or teardrop forms), and lotuses in a dark red field. The spandrels (or corners) of the rug's main field hold very bright red florets that encircle a shah abasi stylized symmetrical palmette. The bright red florets in the border and spandrels provide some lighter value balance to the white field in the rug's center. This handmade Bakhtiari floral rug with its intense red field and roses is in pristine condition, for it has never been used. Bakhtiari province is located in the Zagros mountains of southwest Iran, and it is home to a once seasonally migrant Iranian tribe, who have mostly settled down.
The hand knotted antique Senneh rug (catalog number 614) has an allover dense lattice design with bright red and yellow florets on a deep navy blue background. The repeat field design uses a Herti (or fish) pattern: a central stylized flower with sickle or lanceolate leaves with serrated edges on its four sides that compose its border. The bright red border of this rug with repeat floral elements provides a subtle contrast to the darker central field. The main and largest floral element in the border is the Harshang or crab (from the Persian term Kharchang) floral design; that is, a stylized palmette with shield-like shape, and this palmette alternates between being colored a navy-blue set in a bright red sphere and bright red set in a navy sphere. This vegetable dyed rug in excellent condition can provide a rich in color, yet subdued in design, addition to any room. It can be noted that Senneh rugs are made in villages and towns of the mountainous northeast province of Kurdistan province of Iran, as well as its capital city Sanandaj which has become a regional rug weaving production center.
The antique Kashan Persian rug (catalog number 195) made of an all-wool pile on a cotton foundation features a large central medallion composed of red florets within a cross pattern that enclose a circle of eight florets with pendants that extend from its ends to near the border and are set in a deep navy-blue field. The central medallion and pendants are encircled in a distinct ring of stylized flowers, and the spandrels or corners of the main field feature a space with florets in an ivory field area. The ivory borders of the medallion, pendant and upper and lower spandrel borders provide additional contrast to the deep blue navy field. The wide border around the main field has a pattern of alternating flowers which include stylized bright red roses and oval arrangements of white florets; the white color echoes the ivory used in the main field. These white florets and the bright red roses add a very distinctive color and design element to the border area that does not allow the viewer's eye to simply remain at rest and satisfied with intricate central medallion design. This handmade antique Kashan rug uses floral patterns and arrangements in a visually distinctive and striking manner that both soothes and stimulates the viewer's perception.
Another antique Persian handmade rug from Kashan (catalog number 503) combines several different traditional Persian rug motifs: the pictorial with a central medallion featuring a rural scene of several homes in the countryside, the vase motif with a bouquet of flowers at the base and top of the rug, the tree of life motif with a pair of flowering trees at the base and center of the rug's main field, and finally an arch pattern on the main field that signifies that this is a prayer rug. The white, light blue and green floral patterns are symmetrically arranged in a deep red field. The wide border around the main field includes additional landscape scenes of different buildings, a home in one, a mosque in another, which are set in small diamond-like panels with a flowering tree of life symbol in between them. The border constitutes an overall lighter area with its use of light blue and ivory and beige floral elements that provides a subtle contrast to the darker red field. This high quality, vegetable dyed rug woven from fine quality kurk wool on a cotton foundation possesses a warm and charming character that will light up any room.
The antique Persian Bakhtiari rug (catalog number 775) features a large central medallion of red florets that is enclosed within a larger diamond with a white field filled with arabesque floral patterns. The central diamond pattern of florets within the medallion is itself enclosed in larger navy-blue diamond with florets. Florets, Ahab Abassi motifs, and serrated leaves densely fill the rug's deep rustic brown main field. A white narrow minor border that encloses the rug's field balances the intense contrast of the white field area of the central medallion. A split leaf pattern appears with shield-shaped palmettes, which alternate with boteh (or teardrop) shapes or serrated leaves that encircle each palmette. This handmade Bakhtiari antique rug in perfect condition that measures eleven by fifteen feet can enhance any living room with its visually quite striking design.
Please see the category of Old & Antique Rugs on the Beautiful Rugs website to find yet more examples of exceptional quality antique Persian rugs and feel free to contact us if you have any questions about the rugs described above.