Think of home accents to refine the look and feel of your interiors, and Persian rugs will definitely make it to the list – the exotic elegance accompanied by comforting warmth spruce up any place in an instant.
When it comes to our rug selection, there is no dearth of patterns, styles, and sizes. So, if you have been browsing for oriental carpet patterns that will beautify your living space and complement your furniture, our rug collections will not disappoint.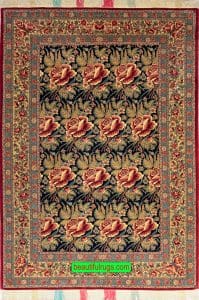 Whether you are a rug aficionado or are just developing an interest, the rich history of the Persian rugs will fascinate you.
Not only are Persian rugs known as one of the oldest oriental rug types, but they are also renowned for the use of warm colors and exquisite traditional patterns. Authentic Persian rugs were handmade, and rug weavers sometimes took months to finish a single piece. That is the secret behind gorgeous and detailed patterns and perfection. Antique rugs were often crafted with excellent quality wool and vegetable dye.
We have listed below some interesting rug facts for you:
Superior Quality
You found a Persian rug with an oriental carpet pattern that exuded a modern-vintage vibe and said, "This is exactly what I was looking for," but then you looked at the price tag and started thinking if it would be a worthwhile investment. YES, it would!!
Persian rugs are hand-knotted and boast high quality. So, you will not just be spending your dollars on a rug that looks WOW, but will also be getting a durable, hard-wearing piece that will elevate your home's décor for years to come.
A pro tip to make your Persian rugs last even longer: get them cleaned from professional rug cleaners every once in a while.
Timeless Patterns
Persian rugs boast a timeless style.
Whether you have a modern-contemporary style in mind or incline toward the vintage, you will find a Persian rug that matches the décor style. These rugs are by no means reserved for traditional spaces. They can add character and charm to a modern space, too.
If you want to create a bespoke décor feature for your clean and contemporary room, incorporate a Persian rug – you don't have to stick to the floors; you may use them creatively as a wall accent.
Purpose: Now and Then
In the early days, Persian rugs were used to protect households from cold and dampness. Now, they are used as an accent piece to create a distinguished look for your home. They have redefined luxurious décor for living spaces.
Environment Friendly
Persian rugs are good for the environment as well. The dyes and other materials used in the making of Persian rugs are natural.
When you choose an authentic Persian rug with a stunning oriental carpet pattern over a synthetic rug, you are choosing goodness for your family. Synthetic carpets may emit harmful chemicals that affect your environment.
The Bottom Line
The intricate patterns and designs of Persian rugs make them unique pieces of art. Each piece holds a lot of history and is reminiscent of rich culture.
Invest in a Persian rug today for sprucing up your interiors for the holidays!