Home décor is a vital aspect of creating a comfortable, stylish, and personalized living space. From the colors on your walls to the furniture in your rooms, every element of your home's design should reflect your personality and lifestyle. One crucial component of home décor that often gets overlooked is the use of rugs. Rugs not only add texture, warmth, and color to a room but also serve a functional purpose, such as protecting flooring or defining a space.
In this blog post, we will explore the art of home décor and provide you with tips, ideas, and inspiration for incorporating rugs into your home's design. Whether you prefer traditional or contemporary styles, we'll help you choose the right rug for your space and show you how to use it to create a cozy and stylish look throughout your home.
The Basics of Home Décor
Decorating your home can be a daunting task, but it doesn't have to be. By focusing on the basics of home décor, you can create a space that is both functional and stylish. The key elements of home décor include:
1. Color
Color is perhaps the most important aspect of home décor. It sets the tone for a room and can affect our mood and emotions. When choosing colors for your home, consider the purpose of each room. For example, a bedroom should be a calming space, so cool colors like blue and green work well, while a dining room should be a livelier space, so warm colors like red and orange are ideal.
2. Texture
Texture is another essential element of home décor. It adds depth and interest to a room and can make it feel more inviting. Some easy ways to add texture to a room include using throw pillows, blankets, and curtains with different fabrics and patterns.
3. Pattern
Patterns are also essential in home décor. It can add visual interest and tie together different elements in a room. When incorporating patterns into your décor, consider the scale and color of each pattern, and try to mix and match different patterns for a more eclectic look.
4. Balance
Finally, balance is crucial in creating a cohesive and harmonious space. A room should feel balanced both visually and physically, with furniture and accessories arranged in a way that feels comfortable and natural. For example, in a living room, a sofa and chairs should be arranged in a way that allows for easy conversation while also leaving enough space to move around.
By considering these basic elements of home décor, you can create a space that is not only functional but also beautiful and inviting.
Types of Rugs for Home Décor
When we talk about rugs in general, there are tons of options available. Here are some of the most popular types of rugs for home decor:
1. Traditional Rugs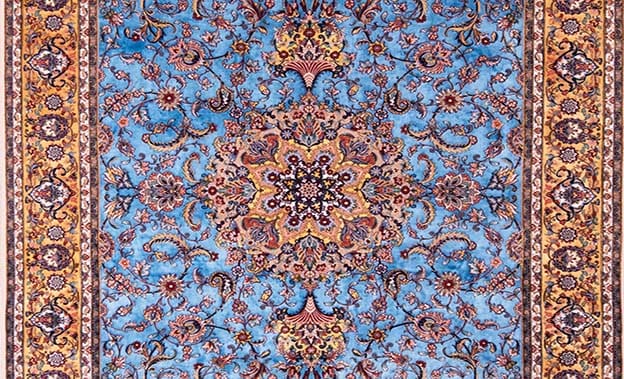 Traditional rugs, also known as oriental rugs, are often made from wool and feature intricate patterns and designs. These rugs are typically associated with formal and traditional styles of home decor. Some of the most famous traditional rugs include:
Persian rugs: A highly sought-after style originating from Iran. These intricately woven rugs feature elaborate designs and colors, often showcasing floral patterns or geometric motifs.
Oriental rugs: A catch-all term encompassing various traditional rug designs from Asia, these rugs often feature detailed patterns and vibrant colors and are known for their remarkable longevity.
Moroccan rugs: Native to North Africa, Moroccan rugs stand out with their geometric shapes, varied textures, and vivid colors, making them a popular choice for contemporary spaces.
Aubusson rugs: Hailing from France, Aubusson rugs are traditionally made with flat-weave techniques and portray idyllic pastoral scenes or floral themes, exuding timeless elegance.
Turkish rugs: Originating from Turkey, these Turkish rugs offer a wide range of patterns and colors and are made with unique knotting techniques, typically for a denser, more durable construction.
Chinese rugs: Known for their intricate artistry, Chinese rugs often feature motifs inspired by nature, such as flowers, animals, or landscapes, and tend to showcase a more subtle and muted color palette.
2. Contemporary Rugs
Contemporary rugs are a great way to add a modern touch to your home decor. These rugs come in a variety of styles and patterns, including:
Geometric Rugs: Featuring patterns of shapes and lines, geometric rugs add a modern touch to any space, creating a stylish focal point in the room.
Abstract Rugs: With their unique, free-form designs and bold use of color, abstract rugs are the perfect addition to a contemporary home, infusing an artistic flair.
Solid-Color Rugs: Offering a clean and minimalist look, solid color rugs are versatile, easily incorporated into various interior design styles and complementing other elements in the space.
Textured Rugs: Highlighting a variety of textures and patterns, textured rugs bring depth and dimension to a room, creating a subtle visual interest and a cozy ambiance.
Art déco-Style Rugs: Inspired by the iconic Art déco era, these rugs feature geometric patterns, vibrant colors, and bold designs, making a bold statement in any contemporary home.
Transitional-Style Rugs: Combining elements of traditional and modern rug designs, transitional-style rugs offer timeless elegance, bridging the gap between classic and contemporary décor styles.
3. Shag Rugs
Shag rugs have a long pile that gives them a soft and fluffy texture. These rugs can add a cozy and inviting feel to your home decor. The most popular forms of shag rugs include:
Flokati Rugs: Originating in Greece, Flokati rugs are hand-crafted using natural wool, providing a plush and luxurious texture perfect for adding comfort and warmth to any space.
Faux-fur Rugs: As a cruelty-free alternative to traditional fur, faux-fur rugs offer a similar visual appeal and softness without the ethical concerns associated with real animal hides.
Long-pile Shag Rugs: Featuring lengthy, loose fibers, long-pile shag rugs create a dramatic and cozy effect in a room, adding depth and an inviting ambiance.
Short-pile Shag Rugs: With a neater and more compact appearance, short-pile shag rugs offer the same comfortable texture but with less maintenance and a more subtle visual impact.
Sculpted Shag Rugs: Combining varying pile heights and intricate patterns, sculpted shag rugs present a unique, artistic accent that adds depth and visual interest to any living space.
4. Vintage and Bohemian-Style Rugs
Vintage and bohemian-style rugs are a great way to add some character and personality to your home decor. These Bohemian rugs often feature bright colors and bold patterns and are often made from natural materials like wool or cotton. Types of vintage and bohemian-style rugs include:
Kilim rugs: Handwoven flat-weave rugs that originate from the Middle East and Central Asia, featuring geometric patterns and a variety of colors.
Boucherouite rugs: Unique, vibrant Moroccan rugs hand-knotted from recycled textiles, resulting in a one-of-a-kind, colorful design.
Moroccan Beni Ourain rugs: Handmade, luxurious Moroccan rugs characterized by a distinctive diamond pattern made from high-quality natural sheep's wool.
Overdyed rugs: Vintage rugs that are given new life through a dyeing process, which intensifies the original color or adds a modern splash.
Distressed rugs: Rugs that have been deliberately "aged" through various techniques, such as stone-washing or chemical treatments, to create a timeworn, antique appearance.
Patchwork rugs: Eclectic rugs created from various pieces of vintage or antique rugs stitched together to form a unique, modern design.
5. Natural Fiber Rugs
Natural fiber rugs are a great choice for eco-friendly and sustainable home decor. These rugs are often made from materials like:
Sisal rugs: Resistant to wear and tear, sisal rugs are made from the strong and durable fibers of the agave sisalana plant, offering a versatile and stylish choice for high-traffic areas.
Jute rugs: Soft and eco-friendly, jute rugs are crafted from the raw fibers of the jute plant, bringing a natural touch to your home with their earthy, organic textures.
Seagrass rugs: Made from tall grasses native to coastal regions, seagrass rugs are water-resistant and notably smooth, providing a subtle yet sophisticated look to your decor.
Bamboo rugs: Combining style and sustainability, bamboo rugs are created from thin strips of the sustainable bamboo plant, offering comfort, durability, and an elegant appeal.
Hemp rugs: Highly durable and hypoallergenic, hemp rugs are woven from the fibrous stalks of the hemp plant, making them an environmentally conscious choice for your home decor.
Wool-blend rugs: Merging the benefits of natural and synthetic fibers, wool-blend rugs offer the softness and resilience of wool with the added strength of synthetic materials, creating an inviting and long-lasting foundation for your living space.
6. Braided and Woven Rugs
Braided and woven rugs are a classic choice for home décor. Just like vintage and bohemian-style rugs, braided and woven rugs are also often made from natural materials. They include:
Braided rugs: These traditional, hand-crafted rugs feature a distinctive twisted appearance, made by weaving strands of fabric or yarn together for a cozy, textured finish.
Rag rugs: Colorful and vibrant rag rugs are made by weaving or knitting together fabric scraps and repurposing old materials to create stylishly sustainable floor coverings.
Dhurrie rugs: Originating from India, Dhurrie rugs are flat woven from cotton or wool, renowned for their intricate patterns and vivid colors that enliven any living space.
Soumak rugs: Also known as a type of kilim, Soumak rugs showcase an exquisite needlework technique from the Caucasus region, weaving continuous strands into intricate, reversible designs.
Navajo rugs: Embodying the rich heritage of Native American artistry, Navajo rugs boast geometric patterns intricately handwoven from local, hand-spun wool for a truly unique piece.
Handwoven flat-weave rugs: These versatile, durable rugs feature a low-profile and tightly woven construction, making them perfect for high-traffic areas while still offering a wealth of design options.
Choosing the Right Rug
Once you've determined the type of rug that best suits your home decor style, it's time to choose the right rug for your space. Here are some factors to consider when selecting a rug:
1. Size
The size of the rug is an important factor to consider. The rug should be proportional to the size of the room and should fit comfortably under any furniture that will be placed on it. A rug that is too small can make the room feel disjointed, while a rug that is too large can overwhelm the space. To determine the best rug size for your living space, measure the area where you want to place it and consider how much of the floor you want to cover.
2. Color and Pattern
The color and pattern of the rug can have a big impact on the look and feel of the room. Choose a rug that complements the existing color scheme of the room or adds a pop of color to a neutral space. A rug with a bold pattern can be a statement piece, while a rug with a subtle pattern can add texture and depth to the room.
3. Material
The material of the rug is another important factor to consider. Different materials have different textures and durability and can be better suited for certain areas of the home. For high-traffic areas like the living room, consider a rug made from a durable material like wool or synthetic fibers. For bedrooms or low-traffic areas, a softer material like cotton or silk can be a good choice.
4. Maintenance
Consider the maintenance requirements of the rug before making a purchase. Some rugs require regular vacuuming or professional cleaning, while others are easier to maintain. Synthetic materials like polypropylene are often easier to clean than natural fibers like wool or cotton.
5. Budget
Rugs come in a wide range of prices, so it's important to set a budget before making a purchase. Keep in mind that a high-quality rug can last for many years, so it may be worth investing in a more expensive rug if it meets your needs and complements your home decor style.
By considering these factors, you can choose a rug that not only enhances the look and feel of your home but also meets your practical needs. Don't be afraid to take your time when choosing a rug and consider bringing home a few samples to see how they look in your space before making a final decision. With the right rug, you can create a cozy and inviting atmosphere in any room of your home.
Using Rugs in Different Spaces
Now that you know how to choose the right rug, it is time to think about where to use it in your home décor. Rugs can be used in many different spaces throughout the home and can serve both practical and decorative purposes.
1. Living Room
The living room is a popular space for a rug. A large rug can help define the seating area and make the room feel cozier and inviting. Choose a rug that fits comfortably under the sofa and chairs, and make sure there is at least a few inches of space between the rug and the walls. In terms of style, a patterned or textured rug can add visual interest to the space.
2. Dining Room
A rug in the dining room can help anchor the table and chairs and protect the floor from spills and scratches. Choose a rug that is large enough to accommodate the table and chairs, with at least 24 inches of rug visible on all sides of the table when the chairs are pushed in. A low-pile rug with a tight weave is easiest to clean in this high-traffic area.
3. Bedroom
In the bedroom, a rug can add hominess and comfort. Place a rug under the bed so that it extends at least 18 inches beyond the sides of the bed and at least 24 inches beyond the foot of the bed. A soft and plush rug is ideal for the bedroom and can create a cozy and luxurious atmosphere.
4. Entryway
A rug in the entryway can help define the space and protect the floor from dirt and debris. Choose a rug that is durable and easy to clean, with a low pile that won't catch on shoes or trap dirt. A neutral or dark color can help hide stains and dirt, while a pattern can add interest to the space.
5. Bathroom
A rug in the bathroom can add warmth and comfort underfoot and prevent slips on wet floors. Choose a rug that is made from a material that can withstand moisture, such as cotton or microfiber. A non-slip backing is also important for safety.
6. Kitchen
A well-placed and durable kitchen rug offers various benefits, such as adding warmth, reducing noise, and providing comfort underfoot while cooking. Choose rugs with easy-to-clean materials, anti-slip backings, and stain-resistant properties to sustain the demands of this busy space.
7. Home Office
Incorporate rugs into your home office decor to create a more focused and comfortable work environment. Select a suitable size, pattern, and fiber type that complements your room's design, providing both a professional atmosphere and a touch of your personality at your workspace.
8. Outdoor Spaces
Elevate your outdoor entertaining area or patio with the addition of a well-chosen rug. Opt for weather-resistant materials like polypropylene, durable weave styles, and UV-resistant colors to ensure longevity and low maintenance for your outdoor rug, even under challenging weather conditions.
By using rugs in different spaces throughout your home, you can add style and comfort to every room. Just be sure to choose the right size, material, and style for each space, and consider the practical needs of each area when selecting a rug. With these tips in mind, you can create a beautiful and functional home that reflects your personal style.
Conclusion: Home Decor with Rugs
Rugs can elevate your home decor in countless ways. Whether you're looking to add a pop of color, texture, or warmth to a room, there is a rug out there for every need. By following the basics of home decor and selecting the right rug for your space, you can transform any room in your home into a stylish and inviting haven.
To ensure that your rug complements your existing decor and meets your practical needs, consider factors such as material, size, and placement. Don't be afraid to experiment with different textures, patterns, and colors to create a space that truly reflects your personal style.
At the end of the day, your home should be a reflection of your unique personality and taste. By adding a rug to your home decor, you can create a cozy and inviting atmosphere that will leave a lasting impression on all who enter your home. So why wait? Start exploring the world of home decor with rugs today and discover all the ways that this simple addition can transform your living space!